Now we had ordered our sofas we had up to 6 weeks for them to arrive but we also had a colour pallet to work from.
Paint:
We went on advice from friends that the best place to go for paint was
Wickes
as they are owned by Travis Perkins and are therefore trade quality and one of the least toxic on the market. Another friend also advised me to look at all the paint brochures I can for inspiration as they are the best place to see what colours will actually look like on the walls. I found this image in the
Wickes catalogue
and instantly liked it:
This colour pallet is referred to as Urban Nation: "The colour palette for Urban Nation consists predominately of an array of olive greens, greys and blacks, each representative of part of the urban landscape.
The above image shows walls painted in
Clay
."
Now if someone had said to me a year or so ago that I would one day have a grey living room I would have called them crazy! But having the grey and pink sofas to work with has really opened my eyes to how many shades of grey there actually are. I liked this one instantly as it is so warm that it actually makes the sofas in turn feel cosier also. I also really liked the contrast between this sort of grey and the white wood work. I would advise anyone, especially if you're fairly new to buying interior paint as we are, to go and get samples and paint them on all the walls you intend to paint on, only then can you see if the paint actually goes with your room, with the light, as all walls have different light and it is so important to make sure your choice of colour works in all the different lights in that room.
The colour which I liked so much on the walls in the above photo was actually called
Clay
:
...but when we tried this out on our walls in the living room it just looked far too dark so we went for a lighter option in the end called Pebble which gives a very similar effect to the photo above but doesn't darken the room at all.

Wallpaper: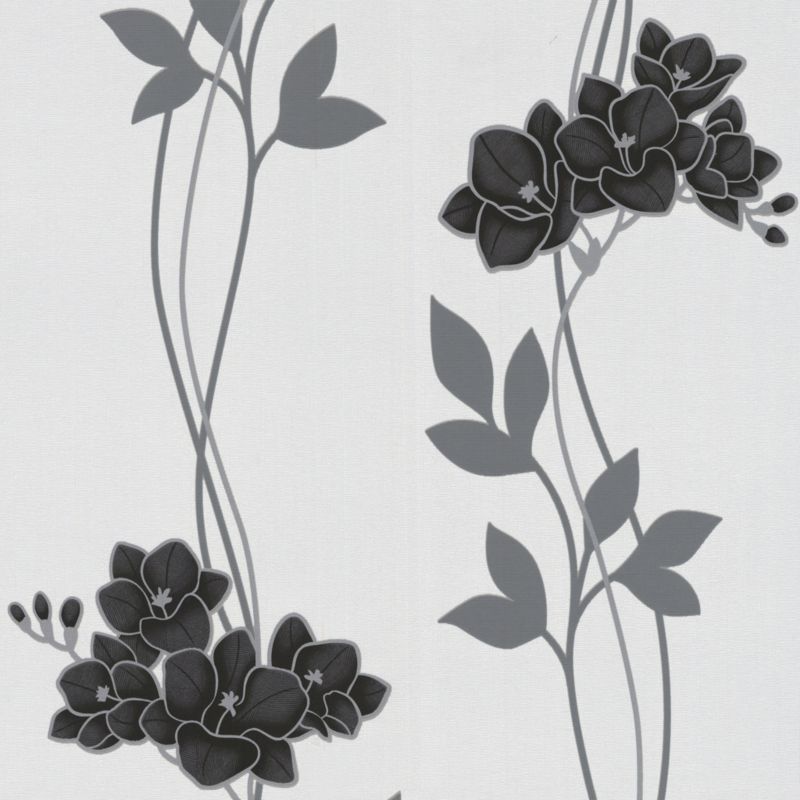 Again we went on the advice of friends that
B&Q
was the best place to go for wallpaper, in terms of availability, variety and price. We both liked the idea of a feature wall on the main wall but were also aware that we didn't want to go too over the top as the sofa's already had a pattern on them. We bought all the samples home and stuck them to the wall which we wanted to be our feature wall. Out of the 6 or so samples we both decided what one we liked the most and lucky for us it was the same one;
Super Fresco Easy Serene Wallcovering Black
so I went out the very next day and bought three rolls!